So, as the list of nations grows that have been affected by this phenomenon a certain pattern emerges. Notice it?
There have been no bird and fish kills in Russia and only a small kill of Eagles in China? Eagles...really? The Eagle is a symbol of the United States, the country that seems to be sustaining the biggest hit. How symbolic that only Eagles would fall in China.
Here is a Google map that lays out the bird/fish kills. Notice a lack of activity in China and Russia? Notice how America seems to be getting slammed? How about the fact that all the countries that seem to be affected are Western friendly?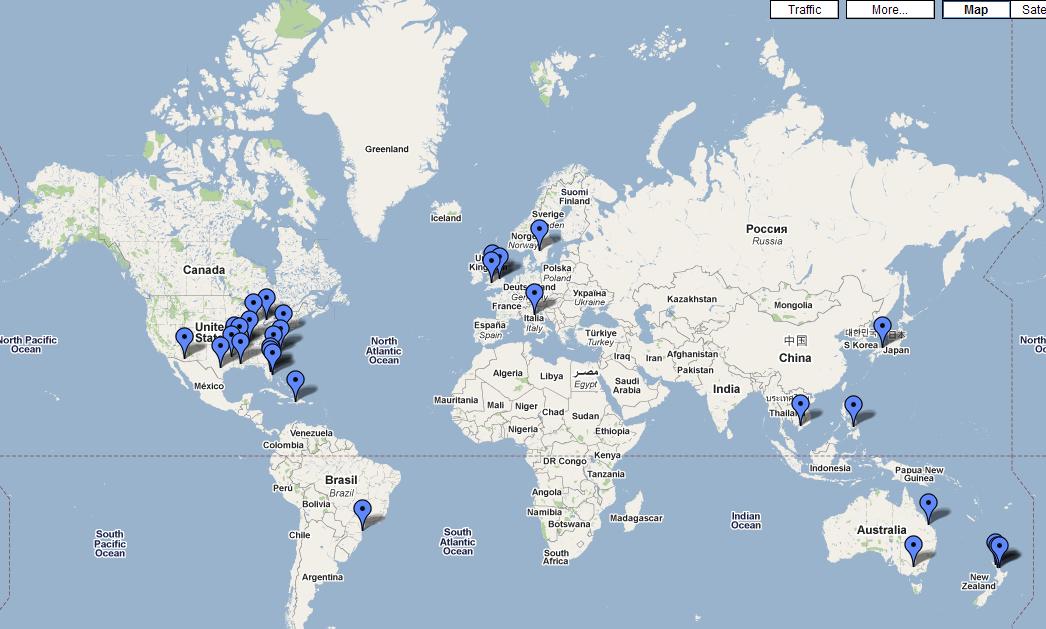 Where are all the fish and bird kills in Russia, China, and all the Middle Eastern countries that are against the U.S.A?
To make it even more strange, there seems to have been a mystery missile launce off the Texas coast near Corpus Christi during this epic mass death of birds and fish.
Notice in the map above that the pattern seems to have started in Texas and worked it's way up the East Coast. An aerosol launched off the coast of Texas would work its way up the Eastern U.S.A. via the Jet Stream. Look at the pattern.
Here is the video of the missile launch off the Texas Coast that happened on the 4th of January, 2011. Coincidence?
Are we under some kind of attack? Not a full scale attack but a warning shot fired over our heads. How about that mysterious missile launch off the coast of California that went unexplained?
What is going on here? Is China firing missiles over the U.S.A. as warning shots? Have the birds and fish been poisoned by an unknown chemical agent developed by the Chinese?
I personally have no idea why the birds and fish are dying in this manner and am just trying to figure this out like the rest of you. I hold no ill thoughts towards the Chinese people, but, I do not trust the Chinese government. Why should I?
Maybe the phenomenon is due to under-reporting in those nations, maybe not. I'm just asking questions that need to be addressed.
Below is a list of the countries that have been hit.
Brazil
Mysterious killing of fish on coast

Canada
Update 1 – 10,000s of Birds found dead in Manitoba
Update 1 – Dead Birds and Fish reported in St. Clair River, Ontario
Update 1 – Goldstream River, at Goldstream Provincial Park, Victoria mysteriously turns bright green

Chile
Thousands of Birds fall from the sky in South America

China
Eagles and Birds are falling from the sky in China

Haiti
Mysterious fish kill prompts ban

Italy
Thousands of Doves are Dying
Update 3 – Birds Dying In Italy: Thousands Of Turtle Doves Fall Dead From Sky

Japan
Japan on alert after finding dead birds

New Zealand
Hundreds of snapper dead on beaches
Update 2 – Penguins, petrels and other seabirds, mass deaths

Philippines
Update 2 – Residents gather, eat dead fish floating in barangay Ibo

South Korea
Dead Teal Ducks With Bird Flu Strain Found In South Korea

South Africa
Mystery of dead birds on Cape roads

Sweden
50 birds were found dead
Hundreds of dead birds found in the middle of the road in Sweden

United Kingdom
Dead fish discovered in canal marina near Abergavenny
Update 1 – 40,000 'devil' crabs found dead on the beach

Vietnam
Update 2 – Tonnes of farm fish found dead

United States of America
Arkansas
Nearly 3000 Dead Birds Fall From Arkansas Sky
First Birds Fall, Now 100000 Fish Dead in Arkansas
Update 4 – Not Just Birds and Fish but People Dropping Like Flies

Florida
Thousands Of Fish Dead In Spruce Creek

Illinois
Dead Birds Reported by Residents in Southern Illinois

Kentucky
Update 1 – Dead birds found in Kentucky, Sweden, as crabs wash up on U.K. shores in latest mass animal deaths

Louisiana
Mass La. bird deaths puzzle investigators
Dead Birds Fall From Sky AGAIN In Louisiana, 300 Miles From Arkansas Incident Days Earlier

Maryland
2 Million fish die in Chesapeake Bay, Maryland

Michigan
Update 1 – Hundreds of Dead Fish Appear In Lincoln Park

North Carolina
Dead pelican count escalates in Topsail Beach
Update 1: Reward offered for information on what's causing dead pelicans at Topsail Beach

Tennessee
Update 3 – Flock Of Birds Found Dead In Wilson County

Texas
Update 1 – Now East Texas also reports hundreds of dead birds
Update 1 – Experts in Texas are weighing in after large amounts of dead birds were reportedly found across the Country and around the World